Ruckus Wireless Inc., (RKUS) is a pioneer in the wireless infrastructure market, enabling carriers and enterprises to stay ahead of the exploding demand for high-bandwidth applications and services. The Ruckus Smart Wi-Fi technology redefines what's possible in wireless network performance with flexibility, reliability, and affordability. We call this Pervasive Performance.
We've been singularly focused on Pervasive Performance in wireless since beginning operations in 2004, and we continue to lead the industry in performance innovation. We have never relied on off-the-shelf, reference design radio technology — it just doesn't deliver the capacity, range or interference mitigation necessary to make the dream of high performance wireless a reality. Instead, we've assembled a team of the best and brightest wireless minds in the world to deliver the creative solutions needed to realize our Pervasive Performance vision.
Learn more about Ruckus Wireless:
Ruckus At-A-Glance (PDF)
See how we helped Time Warner Cable power up the Charlotte Bobcat Arena
See what else our customers are saying about us
ZoneFlex for Enterprises
ZoneFlex, Ruckus' flagship line of indoor-outdoor wireless LAN products, delivers the industry's first centrally-controlled Smart WLAN system with support for dynamic beamforming. ZoneFlex fills a market gap between high-end costly and complex WLAN switching systems and cheap, low-end consumer-grade solutions.
ZoneFlex is a simple, yet feature-rich WLAN system designed specifically for enterprises needing an easy-to-use Wi-Fi system that is reliable and extensible. ZoneFlex uniquely combines powerfulsmart antenna array technology, wireless meshing and advanced security features at a low total cost of ownership.
The ZoneFlex line includes high-density ZoneFlex 802.11a/b/g/n Smart Wi-Fi APs and the ZoneDirector line of Smart LAN controllers for managing from six to 500 APs. ZoneFlex delivers complete security, reliable Wi-Fi performance, quality of service, extended range, and unprecedented multimedia support.
Designed to be simple and easy to use, non-wireless experts can install and operate ZoneFlex products quickly and easily to create an industrial-strength, secure multimedia WLAN in a matter of minutes. ZoneFlex is ideal for mobile operators looking to use Wi-Fi to offload data traffic from their 3G networks and for broadband operators building next generation wireless access networks.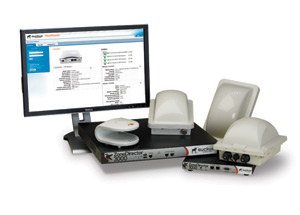 ZoneFlex for Mobile Operators
For broadband carriers and mobile operators, Ruckus has developed a unique line of ZoneFlex indoor and outdoor products that enable service providers to add reliable Wi-Fi coverage and capacity quickly and at a fraction of the cost of conventional alternatives.
Ruckus ZoneFlex for service providers is a comprehensive, end-to-end Smart Wi-Fi system that includes purpose-built customer premise equipment (CPE), 802.11a/b/g/n wireless mesh access points, point-to-point and point-to-multipoint Wi-Fi bridges and system-wide Wi-Fi management.
Combined, these products help operators to better monetize explosive data traffic by offering services such as last-mile Wi-Fi access, 3G offloading and /carriers/managed-wireless-lan-services.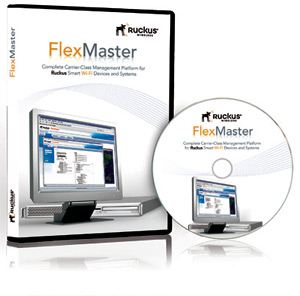 FlexMaster for Remote Wi-Fi Management
The FlexMaster Management System is the industry's only complete management platform for building and managing carrier-grade Wi-Fi service infrastructures.
FlexMaster lets any enterprise or service provider remotely manage individual Ruckus MediaFlex or ZoneFlex APs as well as entire ZoneFlex WLANs over any private, public or hybrid IP WAN. With a simple click of the mouse, companies can upgrade all Ruckus access points, ZoneDirector controllers or groups of devices. Tiered administration provides customized views and controls.
FlexMaster lets companies create unique configuration parameters on a bulk basis and load different versions of firmware for each group of devices.